How Protected is Your Data?
Sep 03, 2020 | 11:51 PM | Filed in:
Backup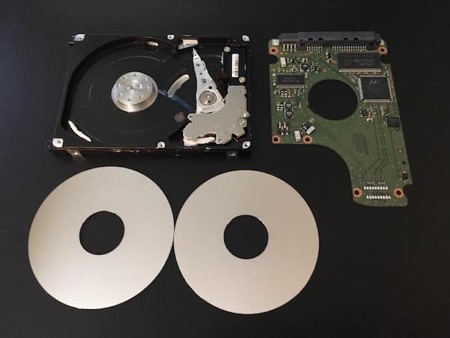 These are the innards of a Seagate 1 Terabyte 2.5-inch SATA hard disk drive, previously installed a Mac Mini server. It ran 24/7 for four years until one day, when it bit the dust. Two thoughts to share today:
Nothing last forever
and
You're only as good as your last good back up
.
We recommend a three-pronged backup approach:
Time Machine Backup ( and a backup of the backup): use two or more external drives and Apple's Time Machine will backup your data every hour, rotating between the two drives.
Maintain an Off-Site Copy: A separate Time Machine Drive that is rotated with the first two, on a regular basis. This drive should be stored off-site but can be on-site in a fireproof safe. Some of our clients also do this with a cloned copy ff their working system. In the event of a system failure, booting up another computer with a cloned hard drive can potentially get you back to work faster than the time-consuming process of re-installing OS, apps, and then copying the backed up data.
Cloud-based backup with a solid, reputable service like BackBlaze. So, if you are denied access to your site or data due to fire, flood, asteroid, etc., you can set up at remote site with new computers and download your backed-up data.
There's an old saying that goes
"An ounce of prevention is worth a pound of cure."
We would rather help you be proactive than refer you to our data recovery partner
DriveSavers
. As a last resort these guys are the best in terms of expertise, capability, and the secure handling of your sensitive files, but data recovery services can be expensive. DriveSavers offers free evaluation and estimates, and the decision is yours. In a SHTF situation (Shtuff-hits-the-fan), we can work with you to get your data recovered quickly, and with a special discount. But let's not go there is we can avoid it!
Are you responsible for your company's or your household's computer systems? If you're concerned about your data,
contact
Jefferson Consulting today to schedule a comprehensive site survey and back up review.