ACMT Training in the Piedmont Triad
Aug 21, 2018 • Filed in:
Training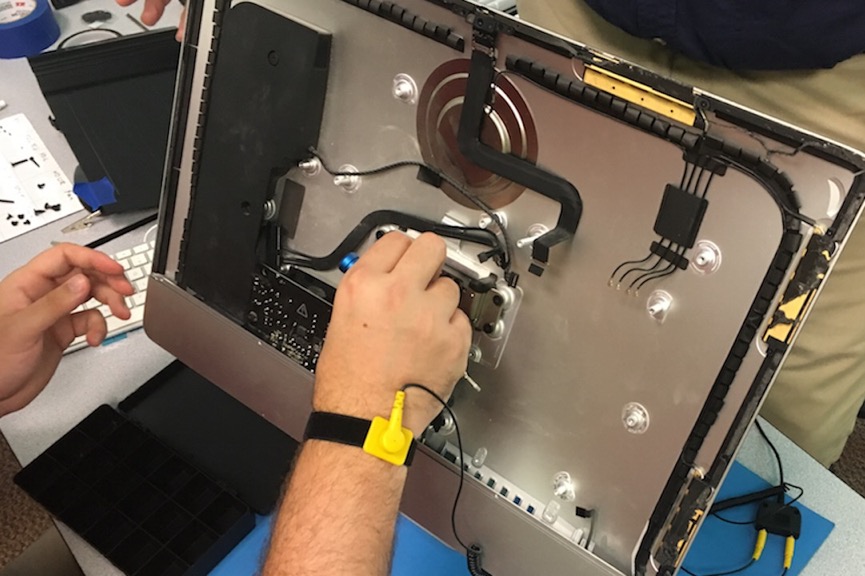 Dave Jefferson just returned from instructing another successful Apple Certified Mac Technician (ACMT) course for
ComputerTree Professional Training
in Winston-Salem, North Carolina. Attendees were from public school IT staff, civilian Defense Department employees, and a local college student. Material in the 7-day course included:
Basic Troubleshooting Skills

Embedded Battery Safety

Electrostatic Discharge Safety

iOS Fundamentals

macOS Fundamentals

macOS Troubleshooting
Networking

Power Management

Technical Documentation

Visual-Mechanical Inspection

Customer Service Skills

And hardware labs covered:
iMac

iMac Pro

Mac Mini

Mac Pro

MacBook

MacBook Air

MacBook Pro 13"

MacBook Pro 15"

Two online exams are included in the course tuition: Service Fundamentals and Mac Service. Both must be passed at 80% or higher to achieve the ACMT certification.
Attendees find the course to be an engaging and informative; and Dave Jefferson's instruction style to be fun and relaxed. Dave has been leading ACMT courses for over ten years, from Connecticut to Florida; from NY to Alaska, and points in between. "ComputerTree is the perfect training location," said Dave," as part of the triad of Winston-Salem, Greensboro, Raleigh-Durham, the area is easily accessible from GSO, RDU and CTL airports, and from I-40, I-85. and I-77, with plenty of hotel and restaurant choices for out-of-town students."
For more information regarding the ACMT program, refer to Apple support article
HT205332: About AppleCare service certifications
.
If you are interested in training to become a certified Mac technician, please contact Lisa Doss at ComputerTree Professional Training, phone: (336) 768-9820, email:
training@computertree.com
.